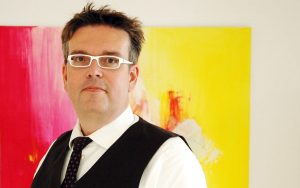 Dipl.-Ing. Michael Horak, LL.M.
Attorney, Consulting engineer
Lawyer specializing in intellectual property law
Lawyer specializing in copyright- & Media Law
---
biography
Born 1967 in Stuttgart; Studied law and Electrical Engineering in Stuttgart, Erlangen and Hannover, Dipl.-Ing. Electrical engineering 1994; Participation in patent law firms of 1995 to 1998; First State Examination 1996; Participation in international firms, u.a. bei Clifford Chance (London) 1997/1998; Second State Examination 1998; qualification: "European Management and Employment Law" der University of Leicester (England), LL.M 1999 (Master of Laws); Author: u.a. "Environmental protection and competition" (in EUDUR, Prof. RENGEL, Ed.) 1998/2003.
Registered in the list of consulting engineers Chamber of Engineers Saxony since 2000.
Sworn interpreter / translator for courts and notaries of the district court of Hanover (English).
lawyer since 1998. Partner of the firm horak . Lawyers for 2003.
Admitted to the Local Court, Regional Court Hanover and at the OLG Celle. Licensed to practice before all German local, Land- and higher regional courts.
Representative before the German Patent- and Trademark Office, the Federal Patent Court, European Harmonization Office and the International Office (WIPO), Domain name arbitration courts and numerous other offices and courts.
Lawyer specializing in intellectual property since its introduction in 07/ 2006.
Lawyer specializing in copyright- and Media Law 2012.
linguistic proficiency
deutsch
English
French
Japanese
memberships
member of International Bar Association; German-British Lawyers Association, German-American Lawyers Association; American Association for Intellectual Property Law (Aiflaa); Information Technology Working Group of the DAV; Intellectual property and copyright E.V. (IIC); German Society for Law and computer science E.V. (DGRI e.V.); Association of German Electrical Engineers (VDE); Association of Experts of intellectual property rights (VPP e.V).
since 01.07.2006 Member and Chairman of the Technical Committee industrial property offices of the Bar Associations Celle, Brunswick and Oldenburg.
legal practice
Intellectual Property (Patent, Brands, Copyrights, Domains etc.):

Patent law
Trademark
domain law, Domain name rights
Utility Model Law
Design law
Licensing law

competition- and Antitrust Law

UWG law
Advertising Law
GWB-law
Merger Process

Procurement law
Law of the art (including computer, Energy, Internet, Telecommunications)

IT law (with computer law, software law, Privacy law)
Energy Law (especially energy law and energy Antitrust)
Internet Law / Online Law
Telecommunications Law
Right of technical standards
Planning Permit, engineering law, Architektenrecht

Copyright (Urheberpersöhnlichkeitsrechte, Copyright exploitation rights, -use rights and intellectual property rights) and Media Law

music law
publishing law
Artist Contract Law
Photorecht
film Recht
Eventrecht

European law
Pharmaceutical law and food law
Tax law and white collar crime (with reference to the aforementioned jurisdictions)